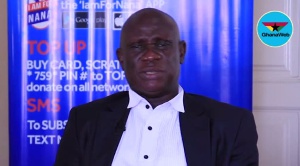 Deputy General Secretary of the ruling New Patriotic Party (NPP), lawyer Obiri Boahen says the opposition National Democratic Congress (NDC), does have the moral right to point accusing fingers at President Akufo-Addo over alleged corruption cases.
The private legal practitioner said the worst form of leadership and unprecedented cases of corruption, were recorded under former President John Dramami Mahama who failed to crack the whip on appointees implicated.

President Akufo-Addo in his view has shown leadership, commitment and faithfulness in dealing with corruption.
Speaking on Frontline on Rainbow Radio 87.5Fm, the lawyer posited that, Ghanaians would be the best judges when it comes the leader wHo has transparently led the country and made corruption unattractive.

He admonished Ghanaians to exercise patience and wait for the prosecution cases lined up against alleged corrupt officials under the previous government.