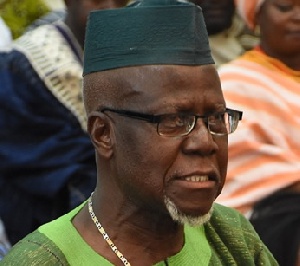 The Ghana Integrity Initiative (GII) has described an attempt by a former Minister of State at the Office of the President, Rockson Bukari, to influence a journalist to drop a story as a clear case of abuse of power for which he, the former Minister, should be prosecuted ABC News Ghana can report.
According to the anti graft body, Rockson Bukari, a former Regional Minister and a former Minister of State should be investigated for attempting to break the law and punished if found culpable of the act of actually breaking the law.

On Monday, April 29, a release from the presidency said Mr. Rockson Bukari had resigned from his position as Minister of State over an allegation of attempted bribery caught on tape.

In the said tape, Mr. Bukari was heard urging a Starr FM journalist, Edward Adeti, to drop a damning story about a judge and a mining company, Shaanxi Mining Company Ltd. Mr. Bukari promised to get officials of the said mining firm to 'compensate' the reporter if he obliged to the request of not publishing the story.

Speaking on Accra based Peace FM, Corporate Affairs Manager of the Ghana Integrity Initiative, Michael Boadi opined that the content of the said audio are so troubling the decision by the Minister to resign may not be good enough.
"There are many forms of corruption and this issue is a clear instance of an abuse of office, if it's indeed true. So whether or not he has accepted his faults and resigned I believe administratively, there should be investigations done and if there are any sanctions to be given, we give. Because if you look at our law, the conduct of public officers' bill in parliament has not been passed so it will be difficult to give the Minister a criminal sanction." he said in the interview monitored by ABC News Ghana.

Michael Boadi however advised Ghanaians to take a holistic view of the trending matter and not to pass judgement until the full facts are brought to bare in an investigation.

"I also think that a lot of us are only focusing on the Minister's resignation but we have heard somebody went to see a judge before the Minister made the call to the journalist not to publish the case. Let us look into the bit of the judge so as not to be biased in our judgement. There should be complete investigation in order for us to be able to deal with the issue holistically" he advised.