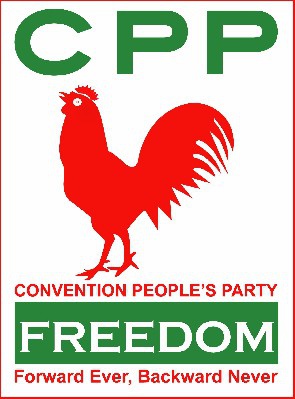 Political science lecturer at the Methodist University, Dr. Osei Bonsu, has suggested the Convention People's Party (CPP) in its current state has disappointed its founder, Dr Kwame Nkrumah.
The party he noted has lost its relevance, is disunited and cannot be factored as a strong political force like it used to be in the past. In his view, if the late Nkrumah were able to talk from his grave, he would have complained bitterly about the state of the party.

The leadership of the party is not prepared to sacrifice for others and that has caused the challenges confronting the party, he added.

Commenting on the legacies of Nkrumah, the lecturer underscored the need for the current generation to be thought the ideas and ideals of Nkrumah, what he stood for and his contribution towards the development of Ghana.

In an interview on Nyankonton Mu Nsem on Rainbow Radio 87.5Fm, Dr. Osei Bonsu said, one [Nkrumah] individual couldn't be the founder of Ghana and our independence despite being the front-runner. ''Nkrumah cannot be the sole founder of Ghana.
It would not be fair to the others who contributed to the struggle for independence, he stated.

The CPP was formed on 12 June 1949 by Kwame Nkrumah to campaign for the independence of the Gold Coast. It was the governing party under Nkrumah of the autonomous British colony of the Gold Coast from 1951 to 1957, and independent Ghana from 1957 to 1966.

In 1964 the constitution was changed to make the CPP the only legal party in Ghana, making the nation a one-party state. The party was banned after the 24 February 1966 coup d'état by the National Liberation Council.

Parties following in its tradition have used various names.[2] The party was reformed from some of the Nkrumah factions in 1996.