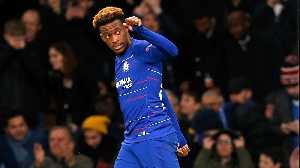 Chelsea striker Tammy Abraham has commended Callum Hudson-Odoi on his goal that opened the score in the Blues' in their 4-1 victory over Southampton on Sunday.
Callum Hudson-Odoi delivered a quick pass to Abraham who found the limited space to lob the ball over goalkeeper unrushing Angus Gunn.

"I knew Callum would play that ball so I was ready to run in behind. I got a touch on it to get it over the keeper and it went in," the striker told Sky Sports after the final whistle.

"It was an important first goal for us, Southampton started brightly. At 2-0 they scored and we did well to stop their momentum and add another for ourselves."
Abraham, who turned 22 this week was delighted when asked about the England call-up he received on Thursday.

"It's been fantastic, I give it to my team-mates and my manager - everyone who has been behind me. When you play with great players you get your chances."