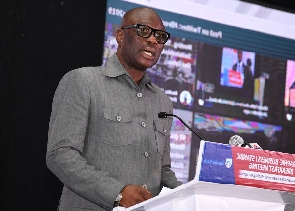 The Ghana Union of Traders Association (GUTA) has told the government to pay particular attention to small and medium scale enterprises (SMEs) in the stimulus package for Ghanaian businesses over the effect of the coronavirus outbreak.
The Finance Minister Ken Ofori has asked Parliament to approve of one billion cedis under a Coronavirus Alleviation Programme to cushion Ghanaians against the effect of the COVD-19.

Announcing the package on Friday evening, President Akufo-Addo said the amount would mitigate the impact of the Coronavirus on businesses and households and ensure that job losses are minimized.

The president has declared a two-week restriction of movements in some parts of the country including Accra.

"The Minister for Finance…will, then, immediately make available a minimum of one billion cedis (GH¢1 billion) to households and businesses, particularly small and medium scale enterprises," President Akufo-Addo revealed while addressing the nation.

The president added that "commercial banks are, in addition, responding to the Bank of Ghana's 1.5% decrease in the Policy Pate and 2% in reserve requirement with a three billion-cedi (GH¢3 billion) facility, to support industry especially in the pharmaceutical, hospitality, service and manufacturing sectors."

He also announced the provision of additional relief, such as extension of the tax filing date from April to June; a two percent (2%) reduction of interest rates by banks, effective 1st April, 2020; the granting by the banks of a six (6) month moratorium of principal repayments to entities in the airline and hospitality industries, i.e. hotels, restaurants, car rentals, food vendors, taxis, and uber operators.
Reacting to this in a statement, signed by its President Dr Joseph Obeng, GUTA said : "Without necessarily spelling out the details of the measures, we like to single out the granting of principle repayments for selected businesses. We believe BoG should have that stronger oversight to ensure that all financial institutions will implement this directive for all businesses to bring the needed relieve for all distressed businesses at this time. GUTA however note the timely presentation of this Statement to Parliament.

"It is very important that at this time of our lives as a people every effort should be made to ensure that the negative impact on especially our businesses can be reduced through the humane approach by our Revenue authorities, Bank of Ghana, Landlords, Financial institutions and above all Government.

"GUTA will like to laud the efforts and the bold stand of H.E the President of Ghana Nana Addo Danquah Akufo Addo and the Government in their fight to ensure that the impact on businesses is lessened. But while doing so, GUTA will also want to advise government to have the members of GUTA and the trading private sector in mind, majority who are in the small and meduim sectors, in any stimilus package to help reduce the huge losses they will and are incurring as a result of this pandemic.

"GUTA will like to take this opportunity once again to laud the effort of Republic bank for their directives to help clients who have taken some loans from them and also advise all banks and financial institutions to emulate this shinning example.

"GUTA will continue to advise all her members and the trading private sector to adhere to all the directives of government and to continue to follow the precautionary measures put out by the health ministry. Bearing in mind that yes the economy can be fixed but not our lives, should we lose it."