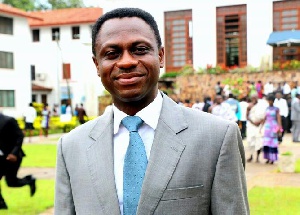 The Koforidua Area Head of the Church of Pentecost, Apostle Eric Nyamekye, has attributed Ghana's stagnated development to bad and corrupt leadership.
According to the revered man of God, all political parties have failed Ghanaians adding that the situation is likely to have a negative effect on turn out during subsequent general elections as many electorates feel disappointed in Politicians for failing to better their living standards.

"All the political Parties are equal. They are the same. So if we are not careful it will get to a time many Ghanaians will not participate in any voting exercise. If we don't pray for the current President and his Ministers, Ghana will remain same without any significant progress."

He added that "if they need power they campaign vigorously all day even at night with sweet messages but as soon as they get power, their focus changes to amassing monies and wealth for themselves. They don't love Ghana, they love Money."

Apostle Eric Nyamekye said this when he delivered a sermon Sunday, April 1, 2018, at the Easter Convention of the Koforidua Area and Nkrukan Zone of the Church of Pentecost held at the Jackson Park.
He chastised political leadership in the country for failing to discipline their subordinates rather than endorsing their bad deeds.

"There are some leaders in Ghana who endorse bad deeds. Even when someone commits offence, you see these leaders supporting them. Sometimes if you listen to them you adduce that some leaders are devoid of simple wisdom."

Apostle Nyamekye did not mince words when admitting that, corruption has entered the house of God as many Pastors and prophets continue to dupe congregants to enrich themselves.

Speaking on the topic "The legacy of the Resurrection", Apostle Eric Nyamekye, said anyone who engages in corruption and ungodly conduct becomes a false witness to the death and resurrection of Jesus Christ hence liable to God's judgement.