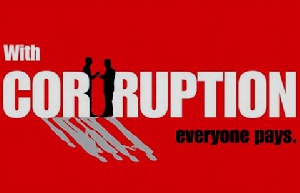 Madam Beauty Narteh, Executive Secretary of Ghana Anti-Corruption Coalition (GACC) said corruption could "kill" because it exacerbated poverty and thwarted development.
She said it also undermined the principles of democracy and good governance, which formed the bedrock of modern societies.

Madam Narteh was addressing this year's International Anti-corruption Day celebration in Ho, on the theme: "United against corruption for development, peace and security".

"Corruption is an insidious canker that has been cited as one of the plagues to economic growth and the provision of basic services that would offer Ghanaians decent living conditions," she added.
Madam Narteh said the nation could only win the fight against corruption when all citizens were concerned about issues of corruption and its general impact on society because "corruption is a culture that could only be combated with concerted effort of all stakeholders"

She said when citizens had access to public information on budgets, contracts, foreign agreements or treaties as well as procurement; it would deepen transparency and accountability and urged government to expedite action on the passage of a "credible and robust RTI law".

Madam Narteh also asked government to urgently give presidential assent to the Witness Protection Bill passed by Parliament on June 26, 2018 and ensure timely passage of the Conduct of Public Officer's Bill, the Whistleblower Amendment Bill, Companies Amendment Act, effective implementation of the National Anti- Corruption Action Plan (NACAP) as well as other key anti - corruption conventions such as the African Union Convention Against Corruption (AUCAC) and the United Nations Convention Against Corruption (UNCAC).