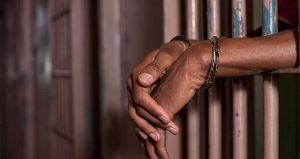 Stories of ex-convicts and hardened criminals going back to crime after serving jail terms have become more of the norm than the exception.
Social rejection and stigma, among other factors, make matters worse and throw the reformation process out of gear.

There is some hope, at least, for a former member of a gang which for many years terrorized and robbed residents of Kumasi of their property.

After spending 20 years in jail, Baba, as we call him in this story wants others to learn from his experience and change for the better.

Yes, many Ghanaians may be going through hard times in a difficult economic environment. Money is hard to come by and some people will do anything, fair or foul to have it.

Baba is one of those who would defy odds to make money through violent crime. He is in his thirties and already he has experienced more difficulty in life than most people will ever go through.

It all started with what he describes as a 'small task'. Baba committed all manner of crimes at drinking bars and other public places.
From phone snatching to armed robbery, his life in crime began when he was just 15.

"At a tender age in school, I was a footballer and people liked me so much. Life was joyful. One day, I decided to become a driver's mate. On my first day, I got money and that was the beginning of my woes", the ex-convict recounted.

Baba decided not to go school again. His parents did everything they could to get him back to school but it did not work.

He said, "I maintained the job and subsequently became a driver. Day by day, my life began to head towards a wrong direction".

He continued to make bad friends and lived all kinds of life. In fact, he was prepared to engage in any violent act.

He was hungry for money and would attack innocent people for it and other property.
Though he did not wield a weapon, his three other friends with whom he embarked on operation all carried a gun at one time or the other.

Baba told me he met his friends at the ghettos; planned and began their operations onwards.

"We robbed people of their phones and monies at different places. On many occasions, I drove to the robbery scene". He stated

Baba and his friends never had any special training like many other criminals but they succeeded in any operation they embarked upon.

Baba's share of booty from their first operation then was GH¢800,000, now GH¢80.

Sometimes, things went bad and they had to manage to save their lives.
Baba said he spent all what he got on women.

After every operation, he added, "I felt motivated and appeared the strongest man on earth".

About 21- years ago, Baba and his friends were arrested and jailed for multiple crimes in Kumasi.

He spent 20-years in prison while the others were sentenced to various terms.

Baba and one of his friends are now out while the other colleague is still behind bars.

A fourth member of the group was reportedly killed, apparently, in a robbery attack.
The love for money compelled him to drop out of school to be baptised into the world of violent crime.

Baba has now turned his back on crime after serving the jail term. He hopes to find deliverance, but he is unsure where it will come from.

He is looking up to philanthropists who can help him put his life together and preach against crime.