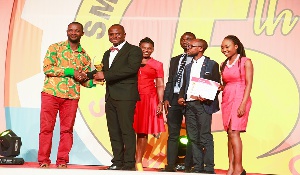 Mon, 8 Oct 2018 Source: Frank Owusu - Ofori
DigiCut Advertising and Production Company, a subsidiary of Groupe Nduom won big at the Small and Medium Enterprises (SME's) Ghana Awards 2017, (SMEGA) at the International Conference Centre, Accra.
In the AD-Media and Print Category, DigiCut beat off competition from companies such as Universal Marketing Consulting Ltd and BTL Marketing Ghana Ltd to emerge as the eventual winner.

The company was however awarded a plaque in the Special Achievers Category, which recognises the company's successful migration from Limited Liability to a Public Listed Company.

It will be recalled that DigiCut successfully listed on the Ghana Alternative Market (GAX) of the Ghana Stock Exchange earlier this year through the help of Gold Coast Holding, another subsidiary of Groupe Nduom, which provides comprehensive investment services In Fund Management, Brokerage, Pension and Advisory.

Receiving the award, the Outdoor Services Manager of DigiCut, Mr. Tudor Sikanartey described the award as a seal of confidence the general public has in the company and its services.

''To us as a company, it shows that we have been doing something right. The process was a comprehensive assessment of various areas of our business that is corporate governance, staff turnover, training, financial management and reporting, corporate social responsibility among others''.
He praised the staff of DigiCut, but was quick to reiterate the enormous challenge the recognition brings. He however assured that his outfit will continue to work hard to justify the confidence the Ghanaian public has reposed in them.

''As a team, we are very delighted with the recognition and we're very much motivated to do more to make more money for our shareholders and the business as a whole after ''.

In April, 2018, DigiCut became the first and only advertising agency in Ghana to successfully list on the Ghana Alternative Market of the Ghana Stock Exchange.




In the process, DigiCut exceeded its target of GhC2.8m from the IPO with over 270 people and companies taking up shares in the prestigious advertising firm. Digicut's share price also increased by 12% after its listing.
Source: Frank Owusu - Ofori