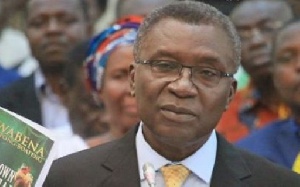 Mr Kennedy Agyapong, Member of Parliament for Assin Central is asking the Minister for Environment Science and Technology, Prof Frimpong Boateng to account for his activities during the 2016 campaign that produced President Akufo-Addo, under whose government he is a minister.
The Assin Central MP is accusing the Minister of using his influence to help the removal of the "very loyal" boss of the Environmental Protection Agency, Peter Abum Sarkodie, to be replaced by his (the minister's own) Special Assistant, who is elder brother to deputy Chief of Staff Francis Asenso-Boakye.

In a tape obtained by MYNEWSGH.com, the say-it-as-it-is MP said although he respects the revered heart surgeon, he had to confront him with the truth.

"We respect you. But chaley, when we were being beaten and were fighting for power, where were you?" He asked.

"If things continue this way, you will do your own campaign, because you are not helping our loyalists" He said.

According to Kennedy Agyapong, Frimpong Boateng has been setting up the EPA Boss, Peter Abum Sarkodie, all in an attempt to get his job for his Special Assistant, who is also elder brother to the Deputy Chief of Staff Asenso Boakye.

"Prof Frimpong Boateng is behaving the way he is behaving because of Asenso's brother. When the time comes and you need people to go and campaign, there will be nobody. Who is Asenso?" He said.
He said sometimes the Minister calls EPA staff to ask demeaning questions about the EPA Boss to get something to use against him.

Known for his free use of words, Ken Agyapong thundered: "What kind of rubbish is this".

"You think we are fools? Who should sacrifice for someone to enjoy. We shall see."

Mr Ken Agyapong, in the tape MYNEWSGH.com has, indicated that Peter Abum Sarkodie, the EPA Boss has been loyal to President Akufo-Addo for more than 20 years when he served as Mampong Constituency Secretary for 6 years, Chairman for some more years and then as MP for Mampong before losing and joining academia from where he continued to help push Akufo-Addo with his brains and money.

He said he wouldn't sit down for the Minister to take away the man's job and give it to Asenso Boakye's brother, adding that 'arrogant' Asenso Boakye cannot take someone's job with the minister's backing for his brother.