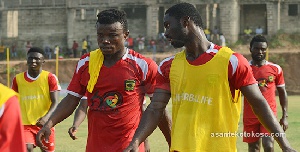 Emmanuel Owusu has acknowledged the influence of his teammate Jackson Owusu on his career since joining Kotoko this season.
The young defender arrived in Kumasi from Brong Ahafo-based Division-One side, Nea Salamina, and has become a part of all Kotoko's matchday squad so far this 2017/18 Premier League season.

He has made three appearances in the league with one starting berth and two come-ons and has been an unused substitute four times.

One consistent observation of the player is his constant communication with midfielder Jackson Owusu during break periods of training and in games, and Emmanuel Owusu explained to Kotoko Express the former is helping him to better his performance and also boost his confidence.
"He is someone I joke with a lot, especially during training. But, he is someone who is also making a great impact on my game since I arrived here. He approaches me whenever there is the opportunity, be it at training or in games, points out my mistakes to me and directs me on how to correct them. He also tells me to be confident in both good and bad times, and is always available to listen to me whenever I need him to chat with on aspects of my game."

"My goal is to become an important player here and in Ghana. When I arrived, I saw that I had come to a turning point in my career and that my dream is achievable. I feel I have the potential to do it and need to build it by being listening to the instructions and directions of the coaches and key players like Jackson Owusu."

He observed further that: "The level of competition here is very high, and the advice and directions I receive from people like Jackson Owusu is helping me a lot and I have to thank him for it."