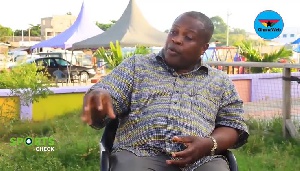 Former Vice President of the Ghana Football Association, Fred Pappoe has backed government's efforts to restructure the sport following steps to dissolve the football Association.
According to the member of Accra Great Olympics, anything to help cleanse Ghana Football is a positive move for the sport and it doesn't matter if it comes with sanctions.

The Ministry of Youth and Sports has set a five member committee to start the process of dissolving the Ghana Football Association, which is seen as direct interference and could attract sanctions.

However, Mr. Pappoe believes government's effort to clean up the Association is a positive move to restructure the sport.
"If the ban is lifted and the form and structure is solid and conducive enough then, ok. There will be the need for a few reforms with the structure and system," he said on TV3's After Hours.

Repealing certain rules and regulations to enhance transparency and accountability is the advice Mr. Pappoe has for the five-member team instituted by the government to oversee activities of the GFA.

"I believe there we have a few rules and regulations that are not serving any good purpose, if you are talking about rules and regulations that will enhance transparency and accountability. And even respect for one another and other institutions. I think there are few rules and regulations that should be taken out."