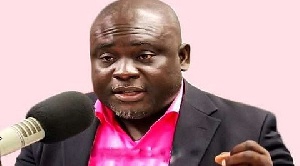 Investment research outfit, GN Research, has waded into the Ghana Cedi depreciation debate, arguing the local currency is performing better than 2016 when the National Democratic Congress (NDC) was in power.
Former president John Mahama and vice president Dr. Mahamudu Bawumia have been throwing jabs at each other over which government best managed the Cedi.

Ahead of the presentation of the 2018 Mid-year budget, GN Research in a statement issued on Monday and signed by General Manager of GN Research Samuel Kofi Ampah said, the Cedi was performing better under the ruling New Patriotic Party (NPP) compared to 2016.

"It should also be noted that notwithstanding the current rate of depreciation of the cedi, its performance so far this year is better compared to 2016 and 2017. By 20th June 2016, the Cedi had lost 2.83%, 2.86% and 6.88% of its value against the Dollar, the Pound and the Euro respective and 3.45%, 5.61% and 9.07% by 20th June 2017. As at 20th June 2018, the Cedi had depreciated by 1.11% against the Dollar but gained 1.32% and 2.38% against the Pound and the Euro respectively.

"This improved performance is primarily because of inflows of foreign exchange from foreign investors as a result of growing interest in government's longer dated debt instruments. The recent tax reforms such as the abolishment of VAT/NHIL on financial services, domestic airline fares and real estate sales among others have also improved the investment climate leading to more foreign exchange inflows," the GN Research said.
According to the research, several external factors especially with the rise in crude oil prices, the US Treasury rates adjustment had set off a domino effect impacting on the Ghanaian cedi.

"There is increasing need to preserve the cedi and prevent it from plummeting even further especially when the government has made some progress with stabilising the currency this year".

The statement added that "the cedi as it is now is made to drive almost all the macroeconomic variables in the Ghanaian economy".

"Anytime the cedi is stabilized, economic variables such as inflation and interest rates among others tend to do well because the economy largely depends on external conditions. Therefore, it can be said that the value of the cedi provides backing for most macro variables and not the other way round. This is why a stable cedi is very crucial to the sustainable growth of the economy", the GN research noted.