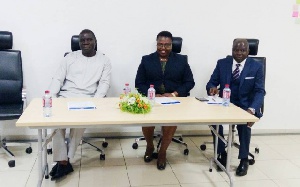 Nigerian High Commissioner to Ghana, Femi Michael Abikoye says Ghana and Nigeria will continue to deepen their relationship, a move that will see an increase in the number of Nigerian businesses operating in Accra.
According to him, Ghana and Nigeria have enjoyed a positive bilateral relationship, and also share common positions in the African Union and the United Nations.

Mr Abikoye disclosed this when he and his team of ministers from the Nigerian High Commission paid a courtesy call on management of Energy Commercial Bank.

They were warmly welcomed by the Managing Director and Chief Executive Officer, Christiana Olaoye; the Executive Director, Isaac Shedowo and the management committee of the Bank.

There are presently many Nigerian companies from banking to insurance and telecommunications operating here in the country.

Mr Abikoye commended Energy Commercial Bank for repositioning its brand to deliver superior banking solutions and services to consumers.
He was also impressed by the bank's consistent financial performance – strong liquidity and capital adequacy – and urged its management to expand its operations and remain disciplined.

He also spoke about how rebranding is of great importance in the corporate world and as such commended the Bank for such an initiative.

He emphasised that "it is good to inculcate the culture of remodeling, repackaging and rebranding. It brings a new refreshing of the brand and makes it more appealing to be patronised."

The MD/CEO of Energy Bank lauded the Nigerian High Commissioner for his innovation and vision to strengthen Nigerian businesses in Ghana.

She noted that Energy Commercial Bank will remain committed to excellent and efficient service delivery at all customer touch points. "We will continue to provide customer centric services to all our clients and prospective ones too"
Mrs. Olaoye added that "Our service delivery will continue to be speedy and efficient, and we will not relent in our efforts to ensure that our customers are satisfied."

Energy Commercial Bank presently has 12 branches in four regions of the country and is expected to add another branch to its footprint before the end of the year.

Its vision is to build a strong bank based on the timeless principles of loyalty and customer services.