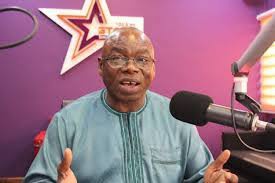 Ghana's constitution makes it easy for corruption to fester in the country, anti-corruption agent Daniel Batidam has observed.
Commenting on the large number of staffers at the presidency, Mr. Batidam said the constitution should be blamed for the laxity given to leaders to appoint the number of people they wish to work with.

"998 is a governance issue. We will need to relook at our system and what our constitution says as well. The President or the government has no monopoly in determining how to protect the public purse. When you employ a large number of political appointees, they go in there to increase the bureaucracy in the Public Service and that is waste.

"Governance is not about quantity but rather quality. Having a large staff size does not guarantee results. Our constitution somehow is a promoter of corruption. It gives some level of liberty and a lot goes unchecked," Batidam told Francis Abban on the Morning Starr.

But responding to the concerns over the presidential staffers, NPP MP for Ayensuano Samuel Ayeh-Paye said the President must have good reasons for appointing such staff strength.
"Looking at the Presidential Staffers from 1993 till date, you'll notice that the numbers keep increasing every now and then. Because there is a restriction in cabinet appointment, a President cannot appoint more than the 19 people the constitution has stated. Who says if you have less people working, it can't increase corruption? Protecting the Public Purse is putting up measures that can fight corruption".