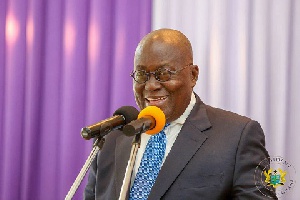 Private legal practitioner and member of the governing New Patriotic Party (NPP), Gary Nimako, has observed that Ghana's prospects for development are very good given the solid and right decisions that have been taken by the Akufo-Addo-led government.
According to him, the decision to scrap nuisance taxes that were killing several businesses is one that will ensure that more businesses are created by the private sector to employ more Ghanaians.

During the electioneering period, Nana Addo Dankwa, then in opposition, made a litany of promises including the scrapping of nuisance taxes, establishment of one factory in each of the 216 districts, one dam in every village of the three regions of the North, the Free Senior High School policy and several others should he be voted into office.

Accordingly, the president has announced the implementation of all these promises in his maiden budget statement presented to parliament by Finance Minister Ken Ofori-Atta in March.

Mr Ofori-Atta mentioned in the statement that the government also intends to reduce the special petroleum tax rate from 17.5% to 15%.

Other taxes that will be completely abolished include the following:

1. The 1% special import levy
2. The 17.5% VAT on financial services

3. The 17.5% VAT on selected imported medicines not produced locally

4. The 17.5% VAT on domestic airline tickets

5. The 5% VAT on real estate sales

6. Duty on importation of spare parts

Also, the 17.5% VAT imposed on traders has been replaced with a 3% flat rate, while businesses that employ young graduates from tertiary institutions will get tax credits and other incentives.
Parliament has since approved the budget statement which means these tax cuts have commenced.

Speaking on Mr Akufo-Addo's first 100 days in office while speaking on TV3's New Day on Saturday April 15, Mr Nimako said: "If you look at the way the president has started, clearly you can see that there are good days ahead of us.

"In the campaign period we said that there were certain taxes that were nuisance taxes. They were inhibiting growth in the economy. We had tax on spare parts which were making the cost of spare parts expensive. We said we were going to abolish it and we have so abolished them.

"The cedi at a point in time between January and March was really falling, but if you look at it now the cedi has really stabilised, which is very good and I hope it can appreciate better because the more the cedi gets strength against the foreign currencies, we realise that businessmen really can have a stable economy for their businesses."