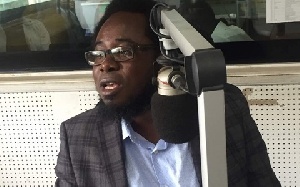 The United States (US) has greater bargaining power and it is very likely the government of Ghana will give in to the demands of the US in relation to the two Guantanamo Bay ex-prisoners being held in Ghana, Dr Kobby Mensah, a lecturer at the University of Ghana Business School, has suggested.
"We have to consider the economic interest and then, of course, we have the Compact [and others] on the table. So is the [Ghana] government going to be confident enough to take any drastic action, for example returning these guys when you know that you have some kind of economic interest with America?" he questioned.

The Supreme Court has ruled that it was unconstitutional for President John Mahama to have allowed the United States to bring two Guantanamo Bay ex-prisoners into Ghana without parliamentary approval.

A seven-member panel chaired by Chief Justice Sophia Akuffo reached the ruling by a 6-1 majority, with only Justice William Atuguba dissenting.

It would be recalled that two plaintiffs, Margaret Bamful and Henry Nana Boakye, sued the Attorney General and Minister of Justice as well as the Minister of the Interior in 2016, accusing government of illegally bringing in the two former Gitmo detainees without recourse to the laws of the land.
The two ex-detainees were brought into Ghana in January 2016 and are expected to be in the country for two years.

Dr Mensah, who was a guest on Class FM's World Affairs, told host Dr Etse Sikanku on Friday June 23: "It will be very tough a decision for the NPP government to make and I suppose most of these issues, the one with the bargaining power, actually tends to win in such negotiations, i.e. America will definitely prevail."

He continued: "Not that I am a fan of America but the reality is that our governments do not have the capacity to say no to the US or the UK or to any of these so called economic giants because we are every time going there with our cup in hand asking for alms here and there."

He emphasised: "It will be tough for the NPP government but I suppose we will chicken in as usual," and advised: "Until our political parties actually sit up and make sure this country actually stands on its own, we cannot be independent of the Western world."