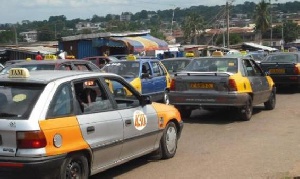 Some floating taxi drivers in the nation's capital- Accra are left reeling after the adjustment in transport fares, which they complain will not inure to their benefit.
According to them, a reduction in fuel prices will cushion them and have a domino effect on other sectors instead of the general increment in transport fares.

Awotwi Pratt, a taxicab driver in the capital in an interaction with host Fiifi Banson on Anopa Kasapa on Kasapa 102.5 FM said for them as taxi drivers, they are still at the mercy of the customers as some agree to adjustments in fares while majority don't.

He fears the current situation won't promote equity within the system since the adjustment will rather slow up their business and benefit trotro drivers and other commercial transport operators.

"The trotro drivers are happy, because the new fares will benefit them. But for us we'll lose out on the adjustment. Even with the old fares, passengers find it difficult in paying, so what will we do. I feel if the government will reduce the price of petrol, it will ease the system and improve transport operations. We plead with the government to reduce the cost of fuel for us. We voted for the government on the basis that it will come and reduce fuel prices for us. But the situation is getting bad. Aside this, the UberTaxi has also compounded our problem, since they are now taking over the market. "

Commuters have started paying more in transport fares, effective today Thursday, April, 5, 2017.

This follows a 15 percent increment announced by Road Transport Operators.
The increment comes despite reduction in Special Petroleum Tax rate from 17.5% to 15%.

According to the Ghana Private Road Transport Union(GPRTU) the fares cover Intra-city, Inter-City and Taxi operations.

The National Chairman of the GPRTU, Kwesi Kumah said the decision to increase the fares was reached after a joint meeting with all the stakeholders including the Transport Ministry.

The GPRTU has cautioned drivers to comply with the new fares and post the fares list at their loading terminals to avoid any confrontation with the travelling public.

The upward review is the first in 2017.