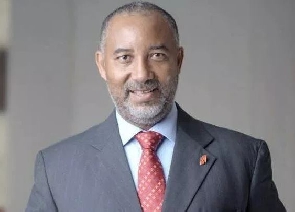 Former CEO of GNPC, Mr. Alex Mould has noted that he cannot tag the president of the land, Nana Addo Dankwa Akufo-Addo as corrupt, ABC NEws can report.
According to the Energy and Finance expert, though many members of his party, the NDC, have tried to tag the president as corrupt, there's nothing linking Nana Akufo-Addo to acts of corruption.

"I've not seen anything directly that ties him to corruption. What you see of the government from his leadership is that they're not toeing the line and I think stronger decision should be taken," he said in an interview on TV3's Hot Issues.

Alex Mould avers however that though the President may not be corrupt, some actions by some of his appointees leave much to be desired. He specifically mentioned the "cash for seat" scandal, the BOST-Movenpina contaminated oil saga, the Kelni GVG contract deal among others to buttress his assertion.
Alex Mould says he expected stricter sanctions from the President in all of the cases iterated adding that the President's lack of action created a rather worrying precedent.

"I don't think that we have the right leadership because if we have the right leadership, action will be taken to ensure that all these corruption cases that come up are dealt with properly," he opined.