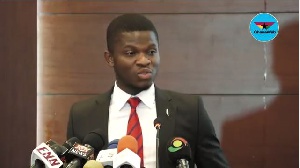 NDC Communicator Sammy Gyamfi has asked Mr. Martin Amidu to exercise self-control in executing his duties as an Independent Special Prosecutor.
President Nana Akufo-Addo yesterday, following an emergency carbinet meeting, appointed the Citizen vigilante Martin Amidu as Special Prosecutor tasked to pursue corrupt officials and ensure the country's laws takes its full course.

Parliament on Tuesday, November 14 last year, passed the Special Prosecutor's Bill at a marathon sitting amidst controversy over whether the prospective Special Prosecutor should be immuned from prosecution.

President Akufo-Addo gave a Presidential Assent to the Office of Special Prosecutor Bill and four other bills key on the agenda of his administration.

The President noted that the establishment of the Office of Special Prosecutor was an important step in the government's determination to root out corruption from public offices.

But according to Sammy Gyamfi, Mr. Amidu may fail abysmally at executing the duties of the Special Prosecutor due to his emotional disposition and the deep-rooted bitterness in his heart, particularly towards NDC members.

He stated on Peace FM's "Kokrokoo" that until Mr. Amidu represses his emotions, he will never live up to task.
Sammy Gyamfi recounted that the former Attorney General has over the years displayed traits of deep-seated hatred against the previous government and made false claims against some members of the NDC all in the name of fighting corruption.

He believes his bitterness will cause his downfall.

He wondered why Mr. Amidu was consistently on the neck of former President John Mahama, issuing press statements to discredit his administration and supposedly unearth what he believed were some corruptible practices by government officials under the Mahama regime, but suddenly went silent on President Akufo-Addo and his government till his appointment as Special Prosecutor.

Sammy Gyamfi, casting doubt on the credibility of Mr. Amidu to effectively execute his duties, said "he's too prejudiced against certain people in the NDC…If he esteems his credibility, because I (Sammy Gyamfi), I don't think that so far in all sincerity, and with all due respect to Mr. Martin Amidu, I don't think he has demonstrated enough credibility to earn my trust that he can effectively execute his duties; and credibility is key".

Watch video