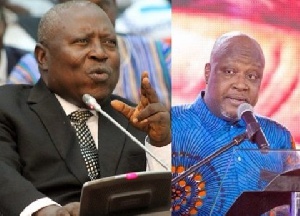 Broadcaster and host of Peace FM's "Kokrokoo", Kwami Sefa Kayi says Special Prosecutor Martin Amidu should resign if he thinks he cannot cope with the challenges in his line of duty.
According to Mr. Sefa Kayi, affectionately called Chairman General, Mr. Amidu understood the terms and conditions associated with his outfit before accepting to become Ghana's Special Prosecutor; therefore he should tone down.

Martin Amidu has expressed resentments over the conduct of some government officials saying they're not cooperating with his outfit in the fight against corruption.

He stated emphatically it is practically impossible for him to execute his mandate as Special Prosecutor if the friction between his outfit and the appointees of President Akufo-Addo not assisting him is eliminated.
"You ask for information you can't get it, you ask for docket, the docket cannot be produced. You ask a minister for a record, the record cannot be produced. How do you fight corruption when those appointed by the president who has a vision are not coordinating with the office of the special prosecutor to achieve his mandate? That is the challenge we have to face", he stated.

But Chairman General believes if Mr. Amidu "feels he cannot do the work, he should just quit".

"He should stop work…If he thinks he cannot cope, he should stop work", he said on his platform.