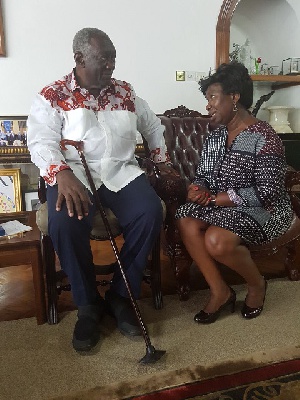 Tue, 5 Jun 2018 Source: Korankye Agyen
NPP National Treasurer hopeful, Mama Mary Posch-Oduro today, June 4, 2018 paid a courtesy call on former President J.A. Kufuor at his residence in Accra to seek for his blessings in the upcoming National Executives Elections of the NPP scheduled for the 7th of July, 2018 at Koforidua, the Eastern Regional Capital.
Mama Mary Posch-Oduro who is a founding member of the party in Germany and has held numerous positions in NPP-Germany, including founding Treasurer (1993 - 1997), branch Women Organiser (1993 -1999) and organising secretary (2001 - 2004). Mama Mary Posch-Oduro is more abreast with our local politics due to her regular involvement in Grassroots mobilisations during national campaigns. She has always been a member of the campaign team since 2000 and have worked in the most unfriendly environments of the NPP especially the three northern regions, Volta and some parts of Brong Ahafo and Western regions.

Mama Mary Posch-Oduro spelt out her vision of mobilising resources to energise the Grassroots, by promoting and sustaining a decentralised mobilisation system where constituencies would be incentivized and encouraged to generate and mobilise resources locally to the former President. She further elaborated on her vision by effectively contributing to the governance and administrative system of the party to ensure maximum satisfaction of all key stakeholders both home and abroad to ensure all-inclusiveness in decision making.

Former President J.A. Kufuor was full of praise for Mama Mary Posch-Oduro for her constant and unflinching support given to the party especially the usual platform given to Presidential Candidates and national campaign teams of our dear party NPP in Germany during electioneering campaign. He remembered vividly the warmth reception his team received in Germany on a campaign tour in 1998 prior to the 2000 elections which brought NPP to power for the first time in our history.
He was of no doubts that Mama Mary Posch-Oduro who was mentored by the Hon Rtd Major Courage Quashigah and Hon Kwadwo Baah-Wiredu, all of blessed memories, with her astute records in finance management will bring enhanced prudence and transparency in financial management to make the office of the national treasurer more credible to the admiration of all party faithfuls. Former President Kufuor was very confident the party will grant her another term after 2022 if she would still would have the strength to serve the party.

Former President Kufuor said a word of prayer with Mama Mary Posch-Oduro and her team and wished her well in the contest ahead. Mama Mary Posch-Oduro expressed her heartfelt appreciation to the former President and further pledged to dignify the office she seeks to occupy.

Everyone present was not surprised at the level of confidence the former President had in Mary Posch-Oduro because they were living testimonies to the good works of Mama Mary Posch-Oduro and prayed delegates will reward hard and commitment to party works come July 7 at Koforidua to elect Mama Mary Posch-Oduro as the Next National Treasurer of the NPP
Source: Korankye Agyen