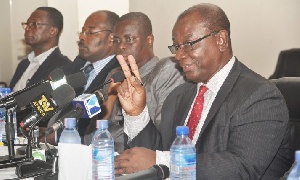 The National Accreditation Board has hit back at the Rector of the Mount Crest University over what it says are falsehoods being peddled by Mr. Kwame Ansa-Asare.
Mr. Ansa Asare at a recent Matriculation and Congregation ceremony of the school descended heavily on the Executive Secretary of the Accreditation Board and the Chief Justice accusing them of attempting to collapse the university.

According to him, the embargo placed on admission into the Law Faculty of the University by the two is "unjustifiable, and amounts to abuse of power.

"Before the end of November, Council will constitute a delegation to meet government, the NAB, and then the Judicial Service because the Chief Justice is also particularly against the location of Mount Crest University and she is seeking also to destroy Mount Crest University, what hurts is that she is from Akropong and I am from Lartey and its appears that it is our own people who have become our enemy.

"I will say it now, I want you to convey to the President that this is what is going on because the letter from National Accreditation Board to us that we should seize taking any new student was on the letterhead of the judicial service and we are told it was written by a Supreme Court Judge Sophia Akuffo who is now the Chief Justice ".
But in a quick rebuttal the Executive Secretary of the Accreditation Board, Kwame Darteh said the attacks by the Mount crest Rector were unwarranted.

"Of all the schools we went to Mount Crest was the worst and this is not from me, it was from the experts led by the legal and professional people from the field.

"So if the experts say these are the findings we had, the board sits over them and actions taken and write to them to do ABC does that mean that I have constituted myself into a destructive force".