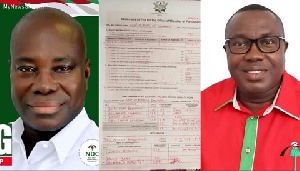 The National Democratic Congress (NDC) has been badly exposed over their claim of withdrawal from the Ayawaso Wuogon by-election which they lost woefully, despite low turnout, MyNewsGh.com reports.
It has been revealed that agents of the party at various polling stations in the constituency with the authority of their party signed the pink sheets to certify the results, even though their party claimed to have pull out.

Chairman of the NDC, Mr Samuel Ofosu-Ampofo, told journalists on Thursday that the party, in consultation with Mr Delali K. Brempong, the candidate who led the NDC to lose in 2016, and lost in 2019 again, had decided to withdraw from the race following a shooting incident at Brempong's residence and alleged assault on party members.

Mr Ofosu-Ampofo alleged that eight of their members were injured with two of them being in critical condition. Mr Ofosu-Ampofo alleged that the presence of some members of the security unit, which was involved in the incident at other polling stations, was intimidating to their agents.

The Electoral Commission Boss, Madam Jean Mensah however said NDC did not pull out of the poll.

Addressing journalists, Madam Jean Mensa revealed that although national executives of the opposition NDC held a press conference in response to the mishap which occurred at the Presbyterian Basic School at the Bawaleshie Polling station in the Ayawaso West Wuogon constituency, the name of their candidate was not taken off the ballot as the Commission was not officially informed.
"… we're not aware that the candidate withdrew from the polls. We were not informed officially that the NDC candidate has withdrawn from the polls. What we were informed was that the agent of the party had been withdrawn from the polling station," she explained.

Elaborating further, Deputy Commissioner Samuel Tetteh noted that candidates who wanted to be withdrawn had to do that before the ballots are printed. He, however, stated that agents could be withdrawn and replaced at any time during the electoral process.

The signed pink sheets seem to support the EC, that NDC pull out via a press conference and if their candidate had won, he would have been preparing to take office.