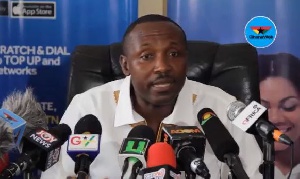 General Secretary for the governing NPP, John Boadu says the National Democratic Congress' record on corruption is unprecedented.
According to him, in the history of Ghana, it is the NDC that has been smeared with mind blowing corruption while in government.

He made this known in an interview on Accra-based Kingdom FM while reacting to claims by the NDC that the current NPP government is corrupt.

He said, "The NDC has no moral right to talk about corruption, their record of corruption in this country is unprecedented there is no party which is corrupt than NDC".
John Boadu further said, "I'm not here to do propaganda like what the NDC is doing, Ghanaians know the corruption record of Mahama and NDC is unmatched".

He noted that President Akufo-Addo's government has been swift in tackling allegations of corruption against his appointees.