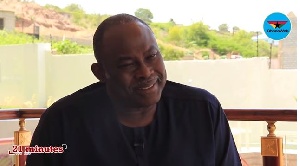 Dr. Ekwow Spio-Garbrah, a presidential candidate hopeful in the upcoming presidential primaries of the National Democratic Congress (NDC), has described the ruling New Patriotic Party (NPP), as a party that endorses corruption, stealing, embezzlement and greed.
He said, the party NPP has caused a lot of young people to bow to the pressure of making money in the quickest and unacceptable way.

Young people of today he said sees nothing wrong with corruption because the NPP has institutionalized it and failed to provide an accountable form of leadership.

Dr. Spio-Garbrah who was speaking on Frontline on Rainbow Radio 87.5FM said, the NDC is not a party that endorses corruption because it was formed on some values and principles premised on probity and accountability.

The NDC he noted must go back to its roots and abide by these principles and desist from copying the corrupt nature of the NPP.

Abiding by these principles will make the party the best alternative, attractive and also reliable, he added.
He charged the party to go back to the grassroot and imbibe in the youth the need to avoid social and financial pressures so they don't engage in corrupt practices.

He said, creating wealth is not a problem but creating wealth by stealing or through corruption is evil and affront to accountable governance.

He indicated that, corruption has grown because greedy political leaders are unable to distinguish between their personal interest and the national interest.

He also spoke against nepotism, family and friends style of governance and added that, it breeds corruption.