Nikky Okyere, a Ghanaian hairdresser who left the shores of Africa in search of pastures new has become the go-to barber for English Premier League players from Africa.
Business is now booming for Nikky, but that was not always the case. According to Nikky Okeyere, his mother wanted him to be a Lawyer or a Doctor but he had dreams of being a barber.

He decided to follow his passion and thus took the chance and headed to the UK where he built his brand and now cuts the hair of top English Premier League players like Crystal Palace's Wilfred Zaha and Bakary Sako.

Okyere prides himself on delivering a quality service along with a warm and welcoming atmosphere in his South London barbers, Slick Rick.

Having elevated himself to the dizzy heights of hairdressing fame, Okyere's client list is growing by the minute, with the Premier League's African representatives queuing up at his door for a fresh cut.

Crystal Palace due Wilfried Zaha and Bakary Sako are among that growing list and have even made the leap of faith by welcoming Okyere into their homes on a regular basis.
'Me before a game I like to have a fresh trim,' Zaha said in the BBC's documentary. 'It's good for my confidence and everything, do you know what I mean? So Barbers are so important.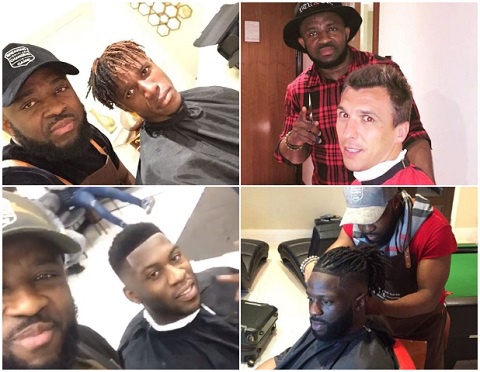 'Nikky is a cool guy, I don't mind him coming in around me and my family. The interaction you have with your barber is not like just a fan. You actually sit down and talk about personal things.'

Sako added: 'I love my hair so much, you can see I've tried many different styles. Almost every game I'm on TV and you just want to look good on TV.'

It's not just a barber shop though, guests are seen dancing from open until close with some guests popping in without the intention of getting a cut and merely to enjoy the show.
Okyere moved to London with the sole desire of becoming one of the capital's most loved hairdressers.

His dream soon became a reality when he was told by a mutual friend that Nigeria international and then Premier League striker Yakubu would be paying him a visit.




From then, word spread and Okyere's name sky-rocketed. Christian Benteke, Divock Origi, Jordon Ibe and Danny Welbeck are among those to have come calling for one of his trademark cuts. Even former Black Stars coach Avram Grant has looked him up.

Their names smother the walls of his modest shop alongside a cabinet full of footballing memorabilia, with some players even donating their own individual honours to the cause.
His work was even whacky enough to spark the interest of Mario Balotelli, before he handed Okyere a birthday invitation - where he would be the only non-footballer in attendance.

'A lot of people that approach me say I have got good energy,' Okyere explained. 'The kind of relationship I give them is what gets them to invite me into their house, it's the good vibes that they see around me that makes them invite me to their house.'

Okyere continues to travel the world to cut the hair of famed footballers and has even taken up the mantel of cutting the entire Ghana international team's hair.

Business is booming for Okyere and it doesn't look like slowing anytime soon.

Watch video: