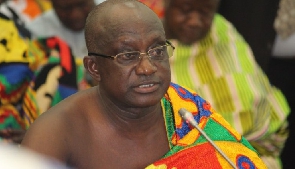 The Kumasi Youth Association(KuYA) says the Ashanti Regional Minister, Simon Osei Mensah never fails to show the world how arrogant he is anytime he's criticized.
According to the group, the Minister's level of arrogance as unparalleled.

It has advised President Akufo Addo to dismiss the Minister if he wants to win the 2020 general election because he's known to have very poor human relations and is woefully incompetent when it comes to lobbying for projects to ensure the development of the Ashanti Region which is the ruling New Patriotic Party(NPP) stronghold.

"The Regional Minister is very unaccommodating and doesn't know how to speak politely to others. This same person does have the skill to lobby for projects for this region. He doesn't also know how to engage with stakeholders in this region. When the youth of Kumasi agitated over the poor state of development in this area the Minister said he does not recognize us and described some of us as aliens to this region. Hon. Simon Osei Mensah is known to be very insulting. His behavior and how his disrespect for people will not auger well for the NPP come 2020 elections. The sooner the party acts the better," Tweneboah Koduah the President of KuYA told host Kwaku Owusu Adjei on Anopa Kasapa on Kasapa 102.5FM.

But the Minister in response has dared the group to go ahead and petition the President for his removal, saying they can go and burn the sea.
"They should go and burn the sea, I'm not bothered about this. I can be removed, and that is the prerogative of the President. I don't have the power to appoint myself, but those people are anti-Ashanti," Simon Osei-Mensah told Kasapa 102.5 FM.

The President of KuYA, Tweneboah Koduah reacting to the Minister's comment stated that he's not the least surprised in the Minister's choice of words as he's known to have sharp tongue.

"We've heard all that the Minister told you the interview, he didn't disappoint us at all. The very things we said about him during our earlier interview is what he's come on air to confirm. This is not how an elderly person speaks. We talked about how he lacks lobbying skills and how to engage stakeholders. If you're a regional Minister these are some of the things you should possess. Exactly what we said about him is what he has shown to the public today."