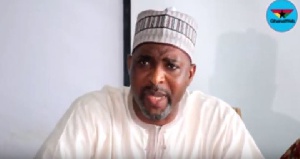 The Minority chief whip, Alhaji Muntaka Mubarak, has expressed regret over the degeneration of parliamentary debates into partisan arguments.
According to him, such developments within parliament makes working in the house difficult.

Speaking on the maiden edition of Citi TV's Face to Face with Godfred Akoto on Tuesday, Muntaka Mubarak, who is also the Member of Parliament for the Asawase constituency in the Ashanti Region, said although parliamentarians often agree on issues and take stance on matters based on the collective national interest, the house gets extremely divided in the few cases where debates take political turns.

"The sad thing is that, when something comes up and nobody on the majority side especially the leadership is ready to listen, it is like, 'we've made up our mind, this is the way we are going to oppose it. It sends us into a tag of war and as usual, we have the numbers, you can say whatever you want to say, we'll vote you out and it happens. In my humble opinion, it makes the working in this house extremely difficult," he said.

He added that partisan and divisive nature of parliamentary debates sometimes "does not augur well for the house."

"Even though there are many, 84% of the time when we act in the collective interest of this country and you don't hear disagreement, nobody credits us with that, but 16% of the time it gets so sharp and deep that it divides us seriously and does not augur well for the running of this house," he said.

Unlike the previous parliament, the current parliament only has members of the governing New Patriotic Party (NPP) and the largest opposition party, the National Democratic Congress (NDC).
Although the current Members of Parliament pledged to work in the interest of the country, they appear to still be mouthpieces of their political parties on the floor of the House rather than representatives of all members of their constituencies.

In August 2017, the Speaker of Parliament, Professor Aaron Michael Oquaye, had to remind the MP's of the responsibility to their constituents by urging them to place national interest above every other consideration.

According to him, Ghanaians expect qualitative performance in terms of debate and legislation from the House and not parochial partisanship.

The has been many instances where the minority and the majority have taken entrenched positions on matters consistent with the position of their respective political parties.

Some of such cases were the approval of the nomination of Madam Otiko Afisa Djaba as the Minister for Gender, Children, and Social Protection as well as ratification of the US-Ghana defence cooperation agreement. While the NDC minority opposed the motion, the NPP majority welcome and voted for it.