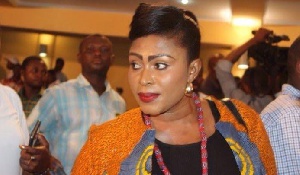 The Microfinance and Small Loans Centre (MASLOC) has issued a stern warning that it will go all out to collect its monies from Members of Parliament (MPs), actors and actresses who defaulted in the loan payment.
According to MASLOC, the defaulters have refused to pay their vehicle loans collected from the facility.

The defaulters have been given a month ultimatum to pay back or risk being publicly embarrassed saying it will soon publish names of the debtors.

"We are not looking at the status of people. We have written to the MPs involved and will publish their names in the dailies… We are going to put out the names depending on their loan portfolios, the sizes.

'The fact that you are a Member of Parliament doesn't mean that if you pick MASLOC loan, we can't come after you. We are going all out and we are not looking at party colors, we are not looking at anything", Deputy CEO of MASLOC Maame Afia Akoto said.
MASLOC's debtors include members of the ruling New Patriotic Party (NPP) and opposition National Democratic Congress (NDC).

MASLOC has a debt portfolio of over GH¢100 million hanging on its neck. It has already impounded about 350 vehicles for non-payment of loans.