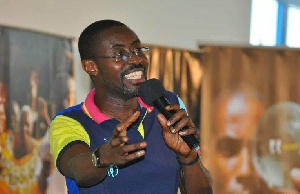 Anti-corruption campaigner Ace Ankomah has asked for prayers for the Auditor General, Daniel Domelevo as he prepares to retrieve monies looted from the state.
On Wednesday, a seven-member panel of the Supreme Court ordered the Auditor General to immediately initiate procedures to retrieve monies siphoned from the state's coffers.

Similarly, the panel headed by Ghana's incoming Chief Justice, Justice Sophia Akuffo further directed that where applicable, criminal action should be instituted against the accused persons by the country's Attorney General.

Speaking Thursday on Morning Starr, Mr Ankomah who is also a leading member of pressure group, Occupy Ghana extolled Mr. Domelevo's capacity to recoup every penny of the state looted through misappropriation as ordered by the Supreme Court.

"I think that Mr. Daniel Domelevo is a star. He is a new kid on the block," he told Morning Starr host Francis Abban.

He added: "From what I have seen and heard about him, he will do everything within his power to make sure that some of these things that we [Occupy Ghana] were to take to court will stop in this country…if we are praying, we should pray for this man because he is a good man, he has a good heart, [and] he knows his stuff."

On his part, Mr Domelevo said he is ever ready to recover the said looted state cash, which Occupy Ghana estimated to be over GHS40billion and that he needs public backing to do so.
"Wherever there is outright embezzlement of state funds, we will go for it," he told Francis Abban Thursday on the same programme minutes before Mr. Ankomah joined the discussion.

This, he explained extends to private entities and individuals found to have siphoned the state's coffers.

But the task will be arduous and that will require public support "before we can do the surcharge," he indicated.

"It is not just the Auditor General. It is a collective responsibility. I'll appeal to Occupy Ghana and all Ghanaians to let us do this together," he pleaded.

The Supreme Court's ruling Wednesday was necessitated by an action instituted against the Attorney General and Auditor General by pressure group Occupy Ghana for refusing to surcharge persons who are said to have misappropriated monies belonging to the state to the tune of over GHS40billion.