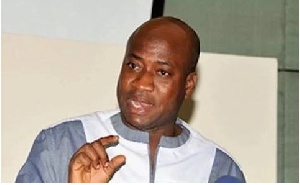 Wed, 14 Mar 2018 Source: Richmond Eduku
The outspoken former Deputy Minister of Trade and Industry and former Member of Parliament for Nanton Constituency, Hon Ibrahim Murtala Mohammed has challenged President Akufo-Addo and the NPP to show as evidence, projects to justify the unwarranted borrowings by this government.
He made these remarks on TV3's New Day Programme in reaction to the Institute of Fiscal Studies (IFS) prediction of doom for Ghana's Economy amidst excessive borrowings.

Background

Finance Minister Ken Ofori-Atta declared during his presentation of the 2018 budget that government through prudent management of the economy, successfully reduced the country's debt burden.

But many players in the finance sector disputed those remarks, stressing that per the breakdown of debt numbers by the Bank of Ghana, Ghana's public debt reached GHC137 Billion as at May 2017, increasing by GHC9.4 Billion in just three months from GHC127 Billion.
Currently, Ghana's public debt has ballooned to over GHC140 Billion.

The former Nanton legislator argued that the erstwhile NDC government have a lot to show to justify the monies it borrowed during its tenure of rule from January 2009 to January 2017 but its the reverse, in the case of the Akufo-Addo-led government as neither the President nor any government official can point out to a single project that has been undertaken by this government since it took over.

Hon Murtala Mohammed chronicled the Kwame Nkrumah Interchange, the Ridge Hospital, Legon Teaching Hospital, various roads in Accra including that of Cantonments among others as projects done by the NDC in Accra alone to justify the borrowings by the erstwhile NDC government and challenged President Akufo-Addo and the NPP to do same to justify the their reckless borrowings.
Source: Richmond Eduku