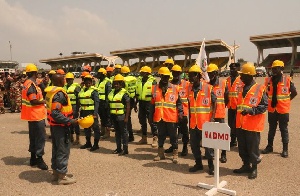 A member of the Parliamentary Select Committee on Interior, Ernest Norgbe has dismissed as outlandish the explanation given by the National Disaster Management Organisation (NADMO) for transferring 216 of its district directors.
According to the Deputy Coordinator of the disaster management body, Abu Ramadan, the decision to transfer en-bloc the district directors from their current jurisdictions was to end alleged looting that has festered under their watch.

"In one of the districts in Kwahu, we have a staff of NADMO who is no longer a staff of the Organisation…but yet still receives salary from NADMO as a public servant and he has mortgaged that salary against a loan that he has taken," he told Starr News' Daniel Nii Lartey.

He added, "And that salary is being paid at the end of every month and deduction is being done from it and the rest is disbursed among some people who are supposed to be validating him for his salary to come every month."
"So how do we continue to have staff who don't work with the Organisation yet keep drawing salary and we have district directors who are unable to stop these sorts of conduct?" he quizzed adding , thus the management of the Organisation thought that bringing in new people to head the district offices would give "us the neutrality we deserve so that when the forensic audit begins we will have neutral people in place to make sure that proper auditing is done and the result of it will come as a satisfactory results."

In his reaction, however, Mr. Norgbe held that the approach adopted by NADMO was untenable. "Transferring district directors and coordinators won't solve the issue of corruption in the organisation," he told Starr Today's Atiewin Mbillah-Lawson Friday.