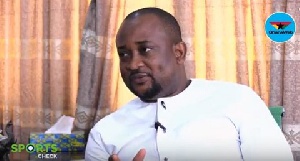 Deputy Information Minister, Pius Enam Hadzide, has assured spare parts dealers at Abossey Okai their locked up cash with any savings loans company with First Allied Savings and Loans would be released.
Responding to questions directed at him at a durbar organised for spare dealers in the business area, the Deputy Minister stressed government would protect depositors of all struggling financial institutions across the country.

He also admonished customers of banks and financial institutions to have faith in government and desist from panic withdrawals since it also contributed to the depreciation of the cedi against the dollar. ''Do not panic over your deposits. Government will not sit unconcerned and watch depositors cash lock up.

We will ensure the measures being rolled out by government, secures depositors. We are engaging with management of the Central Bank and in some few days, Ghanaians will hear from government.'' Some spare parts dealers on Thursday complained bitterly over their inability to withdraw their deposits from First Allied Savings and Loans Company.

Customers of the Savings and Loans Company have complained over the same issue. Those in Kumasi have petitioned the overlord of the Asante Kingdom, Otumfour Osei Tutu II to intervene. Customers of First Allied Savings and Loans stormed the various branches of the bank in Kumasi, Ashanti Region on Monday, 3 September 2018, to demand their savings.

Numbering over 500, the customers besieged the bank's branches at Adum, Asafo, Roman Hill and Suame Magazine among other branches, to withdraw their savings but were left stranded. They later stormed the Bank of Ghana (BoG) at Adum and called on management to intervene.

A similar situation was recorded in Accra and from the Abossey Okai branch; some customers were reportedly assaulted and arrested over their demand for their deposits. Some of them who were present at the durbar called on the Deputy Minister to react to the concerns raised and in responding to the matter, he assured them efforts were underway to resolve the banking crisis in the country.
Meanwhile, the Deputy Minister has attributed the depreciation of the cedi to the consolidation of some five local banks.

According to him, the decision by government to incorporate a new bank called Consolidated Bank Ghana Limited [herein referred to as Consolidated Bank] and capitalized it with ¢450 million had a great effect on the cedi.

He said, government was also doing the best to stabilise the cedi against major currencies. The admission by the president that we are faced with challenges in the economy shows the desire by Nana Addo to be transparent and accountable to Ghanaians.

On his part, Ablekuma Central MP, Ebenezer Narh told the spare parts dealers he had scheduled a meeting with the General Manger of the Loans Company over the matter.

''I met with your executives and the issue of First Allied came up. I have also spoken with the General Manger and on Monday, I will meet him for us to address the challenges.''