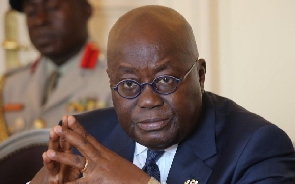 Some Ghanaians who are stranded in Libya have appealed to the government of Ghana to facilitate their return home.
Their spokesperson, Seth Asamoah, who is the CEO of Luna Transport, said they do not want to be evacuated by the Libyan authorities as such a development will embarrass the government of Ghana.

In a statement issued on Friday, May 29, 2020, the stranded Ghanaians said they are "pleading" with President Nana Akufo-Addo to have them airlifted back home immediately.

"We do not want a compulsory Kuwait-like evacuation that would further embarrass Ghanaian authorities as happened recently", the group noted.

Just recently, the government of Ghana said it will be chaotic if it tries flying back home all Ghanaians, stranded abroad as a result of the COVID-19 pandemic.

"We don't have a decision to bring in all Ghanaians", Deputy Minister of Foreign Affairs and Regional Integration, Mr Charles Owiredu said at a press briefing on Tuesday, May 26, 2020.

According to him, "the government cannot make a decision, saying: 'All of these people should come in at the same time'".
"It is going to be very chaotic if you look at the numbers", he said, "so, the decision was taken that let's start with those from Kuwait."

The government of Ghana recently received some 245 Ghanaians who were deported from Kuwait in the wake of the pandemic.

These Ghanaians, who lived in Kuwait illegally, arrived home on Saturday, 23 May 2020 on a chartered flight even though Ghana's borders remain closed.



The deportees, according to Information Minister Kojo Oppong Nkrumah, who addressed the media on Friday, May 22, 2020, were to go through mandatory quarantining and testing for COVID-19.

According to Mr Owiredu, the illegal Ghanaians in Kuwait were part of the first cohort. "This group that we call the first cohort, they are the ones that the decision was taken by Cabinet to allow them to come in."
The second and third categories comprise Ghanaians who travelled outside and are ready to pay for their return home and those outside the country on national duty, including students on government scholarships.

The fourth category includes people do not have the means to return home.

"The little money that they had on them, they started using them, so, now they are broke. We say they are destitute. As a result, even if you provide an aircraft and ask these people to pay, they cannot pay," Mr Owiredu said.

COVID-19: Minority's "bogus" bring-Ghanaians-home chorus "bankrupt", "expired" – Hadzide

A few weeks ago, the government described as "bankrupt" and "expired", the repetitive call of the Minority in Parliament and the National Democratic Congress (NDC) on the government to fly back home, Ghanaians who are stranded in other countries as a result of the COVID-19 pandemic.

At a press conference on Thursday, 7 May 2020, Minority Leader Haruna Iddrisu said: "Many other countries are evacuating their citizens", indicating: "India has done it, South Africa has done it, the UK has done it".
"It is our considered view that just as our government is able to open our airports, despite the closures, for foreign nationals to be evacuated, the government should do same by providing a narrow opportunity under strict evacuation protocols of screening, testing and quarantining when necessary, in order to secure the safety of Ghanaians abroad."

Responding to the Minority at a counter-press conference on Friday, 8 May 2020, Deputy Information Minister Pius Enam Hadzide, said: "The Minority is still unable to offer any pragmatic alternative but merely rehash those same lame queries that Mr Mahama has asked during his political broadcasts on Facebook", adding: "Several weeks into COVID-19 and after several media engagements, both at the presidential and other levels, it is disappointing that such deep level of unawareness is being exhibited by the Minority".

He said: "It is disappointing, for instance, that the Minority is unaware, that across the various metropolitan, municipal and district assemblies, public education is ongoing".

"It is shocking and even embarrassing that the NDC is still latching on to the very bogus proposal that the government should have repatriated Ghanaian students from Wuhan", he stressed.

Mr Hadzide noted that: "The students themselves have spoken to several media outlets and shown gratitude for the much-wiser decision of the Akufo-Addo government".

"This week, schools, in fact, have reopened in Wuhan and for the records, not a single Ghanaian student in China, was infected by COVID-19. And yet, instead of conceding that the government exercised far superior judgement as we always have, they keep repeating this bankrupt and expired proposal".
According to the deputy minister, "Under the able leadership of President Akufo-Addo, monthly stipends for Ghanaian students studying on government scholarships abroad, have been paid upfront and in advance. Yes, the second quarter – April, May and June – have already been paid".

"This administration inherited an accumulated arrears of one year from the NDC and Mr Mahama. While we decline the invitation of the NDC to engage in a blind partisan banter on COVID-19, it is also imperative that for their education, we restate some of the facts around Ghana's successful and effective COVID-19 response plan".

"The claim from the NDC that: 'Science has been relegated to the background', and that President Akufo-Addo seems more interested in his re-election than the safety and life of Ghanaians is false and without bases. The NDC cannot be allowed to approbate and reprobate on this matter."