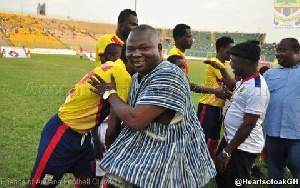 Chief Executive Officer of Techiman Eleven Wonders, Albert Commey has ruled out slashing player salaries during this Coronavirus induced football break.
The impact of the Covid-19 has had huge financial implications on the global sports economy resulting in various sporting organizations and football clubs implementing measures to mitigate these challenges.

Top European Football clubs like Barcelona, Juventus and Bayern Munich have all carried out salary cuts measures to stay financially stable.

Such measures have been advised for Ghanaian football clubs with Asante Kotoko being the first to officially initiate such a process.

However, Albert Commey argues that it will be a callous indifference on the part of clubs to implement salary cuts when its obvious that it won't be favorable to the players.
He has confirmed that Eleven Wonders won't engage their players to slash salaries.

He told TV3 Sports, "to cut players pay means that we are insensitive to their plight".

"They will not be working, so how will they feed their families" he asked.

"In fact, we as a club have decided that we have to do whatever we can to make sure that at least their salaries they have to get so in order for them to withstand the pressure that is coming with this pandemic" he noted.