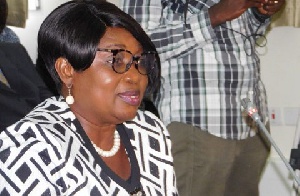 The Deputy Special Prosecutor-designate, Cynthia Jane Naa-Koshie Lamptey, yesterday told the Appointments Committee of Parliament that she would bring a wealth of experience as a public prosecutor for 29 years to the Special Prosecutor's Office, if approved by Parliament.
According to her, her integrity as a public prosecutor in the Attorney General's Department is never in doubt because in her entire professional life, she has never attempted to take bribe or been compromised.

"I can vouch to this committee that I have never attempted to take any bribe in my entire public life and if they brought it I would not have seen it, let alone collect it," Madam Lamptey said, as she was being probed about her suitability for the position during her vetting.

She said she would not have any problem working with the Special Prosecutor, Martin Amidu, whom she had had a fruitful working relationship with as a public prosecutor in the Attorney-General's office, when Mr Amidu was the Deputy Attorney General and later the Attorney General and Minister for Justice.

"Mr Martin Amidu, as I know him, is a workaholic and I am ready to do any work that he will ask me to do as his deputy," she stressed.

When she was questioned by the minority chief whip, Mohammed Mubarak Muntaka as to whether she would be able to stand the temperament of Martin Amidu, Madam Naa-Koshie Lamptey said she had worked with him before and knows his boss' temperament, strength and weaknesses so she would not have any problem working together with him to get the necessary results for the country.

When another member of the committee, who is the National Democratic Congress (NDC) Member of Parliament for Hohoe, Dr Bernice Adiku Heloo, asked the nominee what she would do if sidelined by her boss and made redundant, she said "I can assure you that I will resign if my boss sidelines me because I was not appointed for cosmetic sake but to come and work."


According to Madam Naa-Koshie Lamptey, what can make the Special Prosecutor's Office very effective is to employ qualified personnel or the right experts and also provide the necessary logistics to investigators to be able to get the right information for prosecution; and informants ought to be well protected by the law.

She noted that the difference between prosecution at the Attorney General's Department and the Office of the Special Prosecutor is that at the Department, one can enter nolle prosequi but in the Office of the Special Prosecutor, one cannot do that and that the prosecution is limited to specific corruption cases, which would have all the attention of the office for speedy investigation and prosecution.

Naa-Koshie Lamptey said for the Special Prosecutor's Office to succeed, Ghanaians must be encouraged to offer information on corruption.

She supported the asset declaration regime in the country which she said is a necessary tool to fight corruption in public office – since after the declaration, it would be easier to find out whether after one leaves office he or she has been able to accumulate further wealth or not.

She added that she was ready to declare her asset if parliament gives her the nod to become the Deputy Special Prosecutor.
The nominee told the committee that her greatest achievement in public prosecution was her ability to get two judges and a court registrar convicted.

She did not agree to suggestions that the Special Prosecutor's Office could face the same challenges as the directorate of public prosecution in the Attorney General's office, saying that she was sure there would be committed funding for the operations of the Office.

The nominee kicked against nepotism and cronyism, saying they impede investigation of crimes and also constitute conflict of interest.

Current Job

Madam Lamptey declared that she will not resign her post at the Registrar General's Department until her nomination had been approved by Parliament. "Well, if I'm approved, I will have to resign from that division. That's the plan I have now but not until I'm approved I won't resign," Ms. Lamptey told the committee.

Asked whether her decision suggests she has no trust in her capacity, she responded in the negative, stating she would not want to take chances since in her view anything could happen in the course of the processes for her approval by Parliament.
"No, no, no. Anything at all can happen. I wouldn't want to come and sit here and go home empty-handed. If anything should happen… I wouldn't do that," she emphasized.



Approval

Meanwhile, the Appointments Committee unanimously recommended the approval of Ms Lamptey.

Chairman of the Appointments Committee, Joseph Osei-Owusu disclosed this to the media after the vetting.

"We decided that we unanimously recommend her to the house to approve her. We are satisfied with her performance…she understands her work," Mr Osei-Owusu stated.