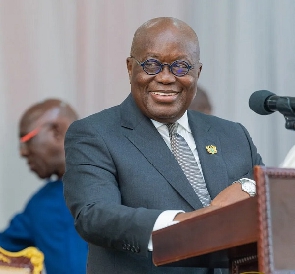 The 8 Chiana SHS students who were dismissed have rendered an apology to GES and President Nana Addo Dankwa Akufo-Addo following their dismissal.
The 8 students were sighted in a video last year, November 2022 on social media, abusing the President verbally for the economic hardship in the country.

Ghana Education Service on Wednesday, January 11, 2022 signed an approval for the dismissal of the 8 students.

Some portion of the statement read, "Management of Ghana Education Service (GES) has given approval for the dismissal of eight students with immediate effect to serve as deterrence to other students."

The statement also described the act of the dismissed students as unacceptable and abuse of the codes of conduct in Ghana's educational system.

"This is in reference to derogatory comments they made in a viral video, a conduct considered very undesirable and contrary to the acceptance standards of conduct generally required in our educational system of Ghana".

The 8 students, having remorse for their actions, are seen in a recent video apologizing to the President, GES, the Regional Director of Education, Chiana SHS and the general public.
The said apology video, which was shared on Joy News captured the students on their knees and pleading in tears for forgiveness.

One of the students remorsefully said in the video that, "I'm here with my colleagues on our knees to beg the President, the headmaster, education office and then our fellow Ghanaians. We are sorry for our video that went viral; we didn't mean for it to go viral. It was a childish play. We are sorry and we're on our knees. Our education means a lot to us, it's our future. We're on our knees that the President should call us back and we call on to the teachers too to join us to plead"

"President of Ghana, we beg you in the name of God, please help us. This is my future; I don't have anywhere else to go. I'm being taken care of by my brother and sister; they will not be happy with me. If my father hears this he will die!", one of them also lamented in tears.

Another one of the students pleaded, "please help us, we have no where to go. Most of us are orphans, have single parents. We don't know where to go, please help us. Have mercy on us, we feel so remorseful please just have mercy on us. We are final year students."

In an interview on Joy News with one of the parents of the wards, he expressed displeasure about the decision to dismiss although he agrees that what the students did was wrong and shameful.

'To be honest, I'm not happy, and not only I, but I think all the parents who were around yesterday. it was a shock; it was a sad news. We never expected to hear that so we're unhappy with that decision".
When asked by Joy News if he had spoken to the school authorities if the order can be reversed, he said," we spoke with them in the meeting yesterday as they handed over the dismissal letters to us and they said they have nothing to do but we should let the students make a video of an apology. So, we did that with our wards and then they posted it on the social media. They said maybe perhaps, the President might have mercy on them and restore them".

The parent further stated that, their wards wrote an apology letter to the school authorities after the incident.

"The students themselves, our wards wrote a letter of an apology and then they handed it over to the school authorities. I don't how far it went too but they gave them a letter of an apology", he mentioned.

The parents, alongside their wards are therefore pleading with the President, GES and the school authorities to be considerate and revoke the dismissal letters to enable their wards go back to school.

RJB/WA