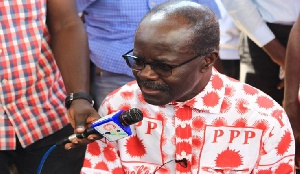 The attention of the Progressive People's Party (PPP) has been drawn to rumours widely circulating on social media that Dr Papa Kwesi Nduom will not contest the 2020 election.
Strangely, the anonymous people behind the circulation of this fabrication have cited their source from the interview Dr Nduom granted on a GN Media platform on Thursday, 10th July 2017.

We would like to state categorically that this report is absolutely false.

On the said programme which took place on Thursday, 10th July 2017, Dr Nduom never stated that he will or will not contest elections again. Rather he bemoaned the usual attitude of Ghanaians in not paying attention to candidates who are into politics for the right reasons, but rather vote for politicians who will lie and promise heaven.

Dr Nduom called on Ghanaians to elect leaders who will represent the Ghanaians' interests, and not their individual interests nor the parochial interests of a political party. He reiterated that our taxes pay the wages of our elected representatives and contribute, in part, to the bank accounts of political parties.

The Progressive People's Party wishes to put on record that Dr Nduom literally challenged the Electoral Commission of Ghana to enforce the Political Parties Law; in order to ensure that we do not reach a point where unethical, even illegal, means are used to achieve ends that benefit the few and disadvantage the many.
From the recent acerbic disclosures at the Electoral Commission, it is obvious we need to have a Commission which is capable of delivering free, fair and trustworthy electoral outcomes for all citizens.

We share the commitment of Dr Nduom to continue educating Ghanaians to vote for competence, truth and justice so that the unwarranted burden of joblessness, which he is forced to carry after every election, particularly from those who do not vote for him, would be reduced.

In addition to failed electoral promises, we abhor, like him, the hypocrisy of the many people who vote for others but keep running to him for support and jobs after elections.

Without doubt, this confirms Dr Nduom's and the Progressive People's Party's belief that Ghanaians get what they vote for; especially when it is an open secret that since 2008, Dr Nduom has always been the best candidate Ghanaians are yet to elect as President.

For the benefit of doubt, the PPP has not yet opened nominations for a flagbearership position. We, therefore, do not know the names of those who might be interested in that enviable position. However, when dates are fixed by the National Committee and the various interests are indicated, we shall communicate same to Ghanaians and about our plans for the 2020 election.
We are calling on all Ghanaians especially sympathizers of Dr Nduom to take no notice of the false statements currently being orchestrated.

Let us pray for the good health and long life for Dr Papa Kwesi Nduom and indeed for all beloved countrymen and women.

AWAKE GHANA! Signed, Paa Kow Ackon Communication Director