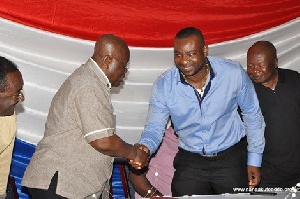 Minister for Lands and Natural Resources, Samuel Abu Jinapor, has stated that the recent statement by President Nana Addo Dankwa Akufo-Addo does not absolve Akonta Mining Company from any wrongdoing.
Arguing in support of the president saying the company owned by the Ashanti Regional Chairman of the New Patriotic Party is not engaged in illegal mining currently, the minister said the statement will not interfere with any ongoing investigation.

"It cannot, it cannot absolve them neither can it interfere with any investigations because I say the President was not speaking out of context, the President was speaking in response to an anxiety which has been expressed by the speaker at the conference.

"By any stretch of the imagination, it cannot and it will not and that is not the President spoke to," he told the press after a meeting with the Chief of Defence Staff and the Military High Command on Thursday.

Describing the president's statement as an assurance about the current state of affairs, Mr Jinapor said the president must rather be commended for his commitment to fighting illegal mining.

"The country should feel assured that their President is putting in place measures to protect the country," the minister is quoted in a report by Myjoyonline.com sighted by GhanaWeb.
The Catholic Bishops' Conference recently urged the president to investigate and prosecute Wontumi and his Akonta Mining following reports of the company's involvement in illegal mining.

But addressing the 8th National and 16th Biennial Congress of the National Union of Ghana Catholic Diocesan Priests Association, President Akufo-Addo said "Akonta Mining Company is not engaged in any illegal mining anywhere in Ghana as we speak."

Meanwhile, the Office of the Special Prosecutor in late 2022 launched an investigation into the activities of Akonta Mining and the allegations made against the company.

GA/FNOQ