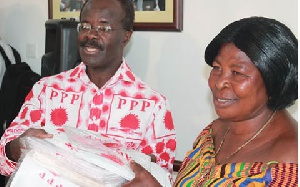 Tue, 18 Dec 2012 Source: Peacefmonline
Ghana Freedom Party (GFP) flagbearer, Madam Akua Donkor, has sworn never to return the official campaign vehicle handed to her by the flagbearer of the Progressive People's Party(PPP),Dr. Paa Kwesi Nduom, on the grounds that it was a reward for promising to give him her backing and votes.
She says if the PPP has any intention of retrieving its four wheel Tundra pick-up vehicle, then she would dolefully want to announce to them that the new owner of the car was Akua Donkor.

According to the chairman of the Progressive People's Party(PPP), Mr. Brew Hammond, the party gave Akua Donkor the vehicle to use in campaigning for its flagbearer Dr. Paa Kwesi Nduom after she endorsed him prior to the elections.

According to the PPP, the failed GFP Presidential candidate refused to return the campaign vehicle and all efforts by the party to retrieve the vehicle after the elections has proved futile.

"We have asked her to return the Tundra and she is running around refusing to return it. We did not give it to her as a gift, it was for campaigning and the campaign is over and we are asking her to return the Tundra.

"If she doesn't return the vehicle we would have to go to the Police because it was given to her to be used for the campaign", Mr. Hammond said.
But in an interview with Radio Gold, Madam Akua Donkor insisted that since she added more votes to that of Dr. Nduom to "place third" after the NDC and NPP, she is entitled to keep the vehicle as a benefit.

"I won't give Paa Kwesi Nduom the car because I didn't charge him any fee for assisting him. He gave me a phone call to come and help him and after meeting with him he promised to give me a car so that I hand over my core supporters to him."

"When you (Dr. Nduom) gave me the car, I went round to do rigorous campaign for you and imagine if someone had shot me in the car; I would have died for free...or if the car had somersaulted, I would have died campaigning for you", she said.

"I told my core members to vote for you and lured them to believe that if they voted for you; they had virtually voted for me. God being so good, you placed third and we have to thank Him for that, because some time ago you had few people voting for you but today I made you place third."

"You must even be grateful to me and polite so that I can aid you to become first in the next elections...I won't give you back your car today or tomorrow", she declared.
Source: Peacefmonline