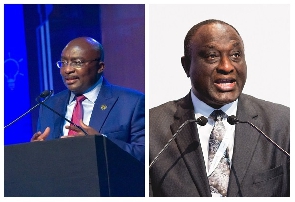 Hopeson Yao Fiavi Adorye has asked Ghanaians to assess Vice President Dr. Mahamudu Bawumia and former Minister for Trade and Industry, John Alan Kwadwo Kyerematen, based on the tasks assigned to them by the president.
According to Mr. Adorye, who is an avid supporter of Mr. Kyerematen's bid for the NPP's flagbearer, Mr. Kyerematen, who recently announced his resignation from the government of President Nana Addo Dankwa Akufo-Addo, performed well, while the same cannot be said about the vice president.

Let me draw your attention to this, in 2016, President Akufo-Addo, before we would go into the election made us aware of the work Dr. Bawumia was going to do. He said the reason he brought him [Dr. Bawumia to be his running mate] was that he was at the Bank of Ghana and was integral in the redenomination of the cedi during J. A. Kufuor's time. That was why he brought him: to come and ensure our economy becomes strong and also ensure our cedi, which had depreciated, will appreciate.

"He stood on a different platform and said Alan Kyerematen was going to lead the 1D1F [One District, One Factory policy] and ensure industrialisation in Ghana. Now, put the two up and weigh them against what the president said before the election and settle on who among the two has performed," Hopeson Adorye said on Okay FM's Ade Akye Abia show, hosted by Kwame Nkrumah Tikese.

The NPP later this year is expected to elect a flagbearer.

Mr. Kyerematen announced on Tuesday, January 10, 2022, his intention to contest for the NPP flagbearer after he resigned from his position as the minister for trade and industry a few days earlier.
His resignation has been joined by that of the Minister for Food and Agriculture, Dr. Afriyie Akoto, who is also expected to announce his bid in the next few days.

The two join the likes of Assin North MP Kennedy Ohene Agyapong, former NPP General Secretary Kwabena Agyapong, and former Energy Minister Boakye Agyarko, who have all announced their readiness to enter the race to be the party's flagbearer.

While Vice President Bawumia has yet to officially announce his bid, he is deemed one of the leading contenders in the race to elect a flagbearer for the NPP.



GA/SEA