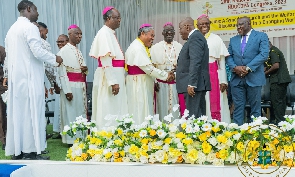 The Ghana Catholic Bishops Conference has responded to President Nana Akufo-Addo's claim that Akonta Mining, said to belong to the Ashanti Regional Chairman of the New Patriotic Party(NPP) Bernard Antwi Boasiako alias Chairman Wontumi, is not currently engaged in illegal mining anywhere in the country.
President Akufo-Addo at the 28th National and 16th Biennial Congress of the National Union of Ghana Catholic Diocesan Priests Association held in Koforidua on Wednesday January 5, 2023 asserted that Akonta Mining Company Limited is not involved in any illegal mining anywhere in Ghana currently.

"Let me respond briefly to the chairperson on the issue of illegal mining. I want to assure him and all of you that Akonta Mining is not engaged in any illegal mining anywhere in Ghana as we speak", President Akufo-Addo clarified.

But responding to the President's statement on Sompa FM in Kumasi in an interview MyNewsGh.com monitored, Most Reverend Matthew Kwasi Gyamfi President of the Catholic Bishop Conference noted that, whether what the President said was true or not, it is only a matter of time that will determine.

"That is what the President has said so we shall also take it in that faith. If what the President said is true, the truth will surely come out when investigators bring it out, but if it turns out to be false…………,", he commented when asked if the Conference agreed with President Akufo-Addo.

Most Reverend Matthew Kwasi Gyamfi also charged journalist to go an extra mile to investigate the matter to know whether what the president said actually correspond with what is happening on the ground.

"It is all up to you (journalists) to prove that indeed what the President said corresponds with what is actually happening on the ground or if Akonta Mining has still not stop, then we will re-engage the President in that respect".
But the Catholic Bishops Conference earlier in the year 2022 issued a statement urging government to arrest and prosecutes the owner of Akonta Mining which according to them at the time was engaging in illegal mining.

However, in his interview, Most Reverend Matthew Kwasi Gyamfi revealed that, the Bishops' Conference had nothing to prove their case but relied on investigations and reports from journalists, stakeholders and other organisations to draw concussion for whatever was brought out.

"We have nothing to prove that what the President said yesterday was false unless it later turns out that what is on the ground conflicts with what the President said", Most Reverend Matthew Kwasi Gyamfi hinted.

He further noted that, the statement from the Catholic Bishop Conference did not only speak on Akonta Mining but all other individuals and organizations that were engaged in illegal mining.

Meanwhile the Minister for Lands and Natural Resources Mr. Samuel Abu Jinapor says President Nana Addo Dankwa Akufo-Addo's comment on Akonta Mining would not compromise the on-going investigations being conducted by the Special Prosecutor.