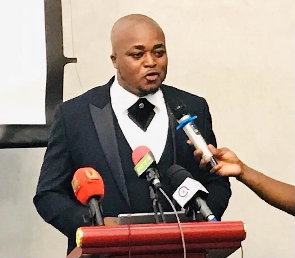 Sat, 28 Jan 2023 Source: Richard Asamoah, Contributor
The Metropolitan Chief Executive of Tema, Yohane Amarh Ashitey, has said that the Akufo-Addo government's decision to equip Senior High School (SHS) students with tablets loaded with e-books deserves to be supported.
Addressing journalists, Amarh Ashitey said, this will inculcate digital learning habits into the students and prepare them well for the modern world which is very digital and cyber centered.

"We live in a world today where life mostly happens on the internet and social media because the economy, the social life and even our politics are happening on the mobile phone, the tablet or the computer. Consequently, President Akufo-Addo is only to be applauded for the policy to equip every single Senior High School student with a tablet loaded with digital learning materials or the so-called e-books." Yohane Amarh Ashitey stated.

Vice President, Dr. Mahamudu Bawumia recently announced plans by government to distribute free electronic tablets to all Senior High School (SHS) students across the country. 

The move, according to Dr. Bawumia, forms part of government's digitization agenda and the tablet will serve as alternative textbooks for the students. 

The Vice President was speaking at this year's New Year School at the University of Ghana, Legon.
"This year, we are on course to provide all Senior High School students in Ghana with tablets that are loaded with textbooks on them for their studies. That's a very game-changing development. We will have past questions preloaded on these tablets that will be distributed."

Government in the past announced its partnership with publishers in the country to roll out the initiative.

According to Hon. Yohane Amarh Ashitey, "these Akufo-Addo e-books will make our dear SHS students digitally smart and well-armed for the modern digital job market.There are also plans to make free internet accessible to Senior High Schools and Tertiary institutions to improve teaching and learning.

"Government has said it has already awarded the contract for the first batch of Wi-Fi installations to begin in some second cycle and tertiary institutions as part of the project".
Source: Richard Asamoah, Contributor