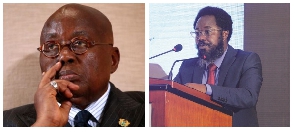 Dr Kobby Mensah, a lecturer at the University of Ghana and political communication expert, has stated that President Nana Addo Dankwa Akufo-Addo's legacy as president is disastrous.
The UG don asserts that prior to Nana Addo's election as president, Ghanaians held the opinion that he would be a better president than former president John Agyekum Kufuor, but his reign as president has altered such perceptions.

"Before Nana Addo came, I think within the NPP, most people to be honest with you a lot of people with all due respect, didn't even think that President Kuffour was better than Nana Addo. For a lot of people within the NPP, it was as if president Kuffuor was John the Baptist and Nana Addo was Jesus Christ.

"That he was coming to prepare the way for Nana Addo's government. So, the majority of people in NPP were actually expecting Nana Addo's presidency more than they expected Kuffour's presidency. And they did not give the due to President Kuffour until Nana Addo came to power. So, the question is where is the legacy?

"...in history or some years to come, we're going to refer to President Kuffour's NPP and Nana Addo's NPP. I don't think you can actually compare the two. So, the cost again is that the legacy that Nana Addo is going to leave, I think that is going to be very disastrous.
Speaking in an interview on Neat FM monitored by GhanaWeb, Dr Kobby Mensah added that President Akufo-Addo's led administration has been a complete failure in terms of economic management.



AM/KPE