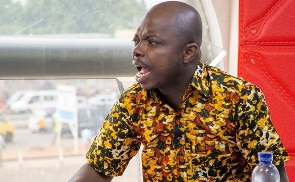 Mon, 16 Jan 2023 Source: Seth Opoku Agyemang, Contributor
The Bono Regional Chairman of the Ruling New Patriotic Party (NPP) Mr. Kwame Baffoe Abronye has called on Ghanaians to be grateful to the government of Nana Addo Dankwa Akufo-Addo and the NPP, despite all the global difficulties Ghanaians don't have to queue for necessities
Chairman Abronye in a Radio interview in Sunyani alluded to the fact that Ghana is a developing country, and had its own challenges emanating from the global crises as a result of other factors including COVID-19, But due to the good governance of the President and his government, the country is on the right path, in all various sectors.

He said many people in advanced countries across the globe are still going through worse circumstances than Ghanaians are facing, including Lebanon, a country which once boasted the nickname "Switzerland of the Middle East" for its thriving banking sector, citizens have to queue for hours every day just to buy bread.

"Addressing worker's unions and government officials during the Labour Day Celebrations, President Yoweri Museveni told Ugandans to opt for cassava if they cannot find bread due to the skyrocketing prices of essential commodities, however, President Akufo-Addo has ensured that nothing is scarce in the country," Abronye Reminded Ghanaians.

He said the country has not gone through any shortage of necessities due to the prudent policies of Nana Addo Dankwa Akufo-Addo and the NPP but not by chance.

Chairman Abronye said Ghana would have been worse if the world crisis had happened under the leadership of the National Democratic Congress (NDC).
The Bono Chairman said Ghanaians would have been queuing to buy fuel and access other amenities if these global crises had happened under the NDC and John Mahama.

"I agree that we are in hard times, which the president himself has also admitted but I can confidently say that had it not been for the good policies laid down by the NPP government, the situation would have been worse, therefore, am urging all meaningful Ghanaians not to fall for the propaganda that the world crisis has no effect on Ghana's economy," Abronye said.

"Covid-19 has been a bad omen for our lives, but the way the government has handled the cases has led to a decrease in the cases and spread less too. If not for this government and Ghana was to be ruled by the Government of John Dramani Mahama, Ghana would have been in a pit."

"This is because the NDC government during the previous administration showed that solving issues is a problem and a weakness for their party. Ghanaians should be thankful to the President because he saved the country during COVID," he added.

Chairman Abronye reiterated that checks have revealed that even some streets of giant countries in Europe go dark in the night, pushed by energy crisis.
He said to solve economic woes, Egypt turns off city street lights, and Egypt has introduced new austerity measures to aid its weak economy. A whole set of new austerity measures leaves streets, squares, shops, and malls without lighting after 11 p.m.

He said Spain has made mandatory measures, ordering shops to turn their lights off at night, and Berlin is switching off the spotlights illuminating 200 of its historic buildings and monuments.

A number of towns and cities in Austria, Germany, and Italy have reduced street lighting or turned off commercial signs. In France, 14 communes in the Val d'Oise department north of Paris are trialing measures to fully switch off public lighting at night. Local authorities estimate shutting off street lights for three-and-a-half hours every night. The towns join some 12,000 communes in France that already either fully or partially switch off public lighting at night.

In Finland, Bulgarian towns are forced to turn off street lights. In Germany, an increasing number of German cities want to do without street lighting at night after gas supplies from Russia have been interrupted by the Ukraine-Russia conflict.

Chairman Abronye, however, insisted that the president has done well to ensure that our power is on all the time for which the nation must be thankful to him.
Source: Seth Opoku Agyemang, Contributor