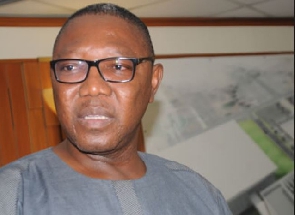 Member of Parliament for Builsa South in Parliament, Dr Clement Apaak has raised concerns over Akufo-Addo's silence after the Auditor General released a report on COVID-19.
According to him, a lot of the resources were embezzled and misappropriated with the COVID-19 funds therefore the people involved should be held accountable especially as the president has touted himself as an anti-corruption crusader.

Speaking in an interview with GhanaWeb's Nimatu Yakubu, Mr. Apaak accused the president of showing very little interest in fighting corruption.

"Unlike the President of Malawi, Akufo-Addo, the President of Ghana, by his refusal to comment on the Auditor-General's Report indirectly confirms the widely held belief that he has no interest in fighting corruption. This is the conclusion of known Anti-corruption crusaders in Ghana.

"The legitimate expectation of the people of Ghana is, that those who have embezzled, dissipated, and misappropriated COVID-19 funds be held accountable - nothing more, nothing less," he added.

Dr Clement Apaak added that looking at the way the COVID-19 funds were embezzled, COVID-19 cannot be the reason for the current economic crisis.
"The content of the report (A-G's report on COVID-19) is scandalous, if you were to look at it, page by page and the infractions and the number of institutions that have been captured as either having appropriated funds, having misapplied funds and in some instances not having the ability to account for resources that were given to them as part of the nation's fight against COVID-19.

"We were all told that the reason why our economy is in this current state was largely as the effect of COVID-19. Now the audit shows that we got above 21 billion to fight COVID and we spent slightly above 11 billion to fight COVID. There was a balance of 10 billion, so it is now clear that nobody can blame COVID-19 for the current state of affairs.

"A lot of the resources were embezzled and misappropriated. How can we use COVID-related monies as seed money to open a bank and how do you explain the facility in Adaklu which has been rented for 25 years at such a colossal fee when indeed such money could have bought the facility, not twice but three times. So, I am scandalized that the president has chosen to feign ignorance about the report and its content," Mr. Apaak added.

NYA/WA