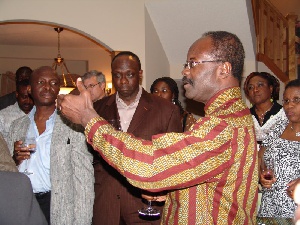 Wed, 13 Aug 2008 Source: GNA
Koforidua Aug. 13 GNA - Dr Papa Kwesi Nduom, Flagbearer of the Convention People's Party (CPP) on Wednesday said is he is elected as the next president of Ghana, he would create a just and disciplined society.

This society, he said, would have a passion for excellence and the ability to move from the "Third World" with its social injustices to the "First World" with opportunities for the youth to be the best they want to be.


Dr Nduom said the key ingredient he would offer was a leadership that would work with a sense of urgency to do what was needed at any point in time.


He was speaking at a programme in Koforidua, organized by Vision Care International, a Non-Governmental Organization (NGO), in collaboration with the National Youth Council (NYC), to provide the youth in the Eastern Region with a platform for positive interaction with the presidential aspirants of the major political parties. He observed that education had proved to be an equalizing factor throughout the world with the developed countries using education as a means of accelerating economic and social growth.


Dr Nduom said he would therefore use education, particularly technical -skill based, to encourage the youth to take their place as disciplined and hard working citizens.


"Public schools from the north, to the south, east to west will be equipped in a standard, high quality manner, to provide opportunity for all children to reach their fullest potential.

"We will use a standard design for kindergarten to Senior High School-classroom, toilet facilities, science and computer laboratories, kitchen and dinning facilities, playground and sports facilities and houses for teachers to be built throughout the country".


Dr Nduom said an important item on his agenda was to create jobs, adding that a CPP administration led by him would use science and technology education to build the necessary human capital for industrialization and social progress.


He said in that regard, research would be actively supported by the state with tax incentives provided to industries that use local research to innovate and build industries.


"A CPP administration led by me will put the Ghanaian at the centre of opportunities in the private and public sectors of Ghana". "We want to stand on the CPP' tradition of job creation to bring jobs to Ghanaians by giving soft loans to the private sector, using tax incentives and ensuring that goods and services produced in Ghana have a market".


He said that was how the youth would get jobs that pay living wages and salaries in Ghana, adding that, the CPP believed in self-determination for the people.

Source: GNA