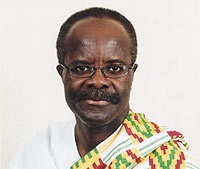 Mon, 21 Jan 2008 Source: GNA
Koforidua, Jan. 21, GNA - Dr Paa Kwasi Nduom, Convention Peoples Party (CPP), presidential candidate, on Monday said the only party that could bring economic prosperity to the country was CPP and therefore called on the electorate to vote for it to solve the country's economic problems.

Dr Nduom said this when he addressed market women and members of the Ghana Private Road Transport Union (GPRTU ) in Koforidua as part of his campaign tour to the Eastern Region to introduce himself to stake holders who mattered in the area and to outline his vision to them and seek their mandate.


He said the first president of Ghana, Dr Kwame Nkrumah established factories in all the 10 regions in the country aimed at providing employment to the people, adding that today none of those factories were in operation, which had resulted in mass unemployment. Dr Nduom noted that both the opposition National Democratic Congress (NDC) and the ruling New Patriotic Party (NPP) had tasted power and had done what they could do to the nation, therefore it was time to bring the CPP to power to continue the good works that Dr Nkrumah did for Ghana.


He said the CPP believed in the private sector and would provide all the necessary support to business owners to expand their businesses to provide employment to the thousands of unemployed youth. Dr Ndoum said the party was now becoming attractive, in that people were now applying to contest for the various parliamentary seats on the party's ticket unlike the previous years when they had to beg people to contest.

He said all their members who deserted the party to join other parties were now coming back because they had realized that there was something good that the party could offer, if given the mandate to rule. Dr Nduom said the CPP would retain all the three parliamentary seats they were occupying now even if the New Patriotic Party decided to field candidates in those constituencies including his own Komenda Edina Eguafo Abirem seat.


He urged supporters of the party to register when the voters' register was re-opened in March and also to encourage other people to register because that was the only way the party could wrest power from the NPP.


Dr Ndoum promised to conduct a clean campaign devoid of insults, acrimony and rancour and urged other parties also to do the same to make this year's election one of the best.

Source: GNA