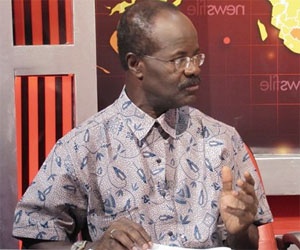 Fri, 18 Oct 2013 Source: XYZ
The Convention People's Party (CPP) has not initiated unity talks with the Progressive People's Party (PPP) which split ahead of the 2012 general elections, CPP Deputy General Secretary Kwame Jantuah has told XYZ.
According to him, the PPP is welcome to rejoin the CPP if it so desires but pointed out that the CPP has no intentions of starting such merger talks.

Former CPP Presidential Candidate, Dr. Paa Kwesi Nduom, left the party to form the PPP, which he led into the 2012 elections and came third, outperforming the CPP.

The idea about the two parties reuniting was first suggested by the Chairman of the People's National Convention (PNC), Ahmed Ramadan, whose party has revived the decade-old botched unity talks with the CPP.

Ramadan believes the Nkrumahist parties will stand a better chance in the 2016 election if they all present a united front.
However, Kwame Jantuah told Radio XYZ's Strict Proof on Thursday that the CPP does not consider the PPP as an Nkrumahist Party to even start unity talks with it.

"There's never been a process with the PPP and so far as we know, the PPP…is not an Nkrumahist Party", Jantuah said.

According to him, "the PPP hasn't done anything to show that they want to unite with the CPP and vice versa so as I speak to you now, it is not the PPP we are concentrating on; we are concentrating on the other parties - PNC, GCPP and the like – if the PPP wants to come on board, they are certainly invited to come on board but at this moment, I don't know that the CPP has gone into any discussions with the PPP and by the way, I don't think the PPP is a splinter party from the CPP just because Paa Kwesi Nduom was once the flagbearer; it looks as if our ideologies are totally different".
Source: XYZ